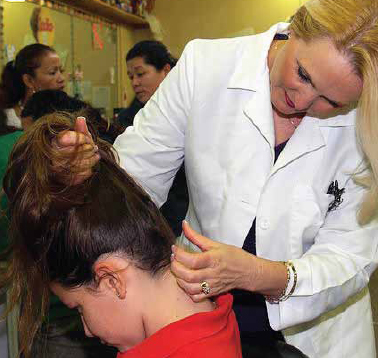 All L!ceOut911 Lice Treatment Lounge employees are trained in The Shepherd Method, an intensive, well-respected, training and certification program created by Katie Shepherd, one of the world's foremost experts in head lice education, research and removal!
"The Shepherd Method" is a time-tested and proven effective means of treating lice once and monitoring afterwards. While combing is a vital tool within the process, it is the methodical approach that ensures all hair has been examined and all lice and nits removed. The Shepherd Method also builds in several safety checks ensuring that when clients leave L!ceOut911 we have done everything possible to ensure they are lice and nit free.
Importantly, as the majority of research and development passes through The Shepherd Institute, all certification members share in the most up-to-the-minute information and treatment advances.  This demonstrates that L!ceOut911 takes our responsibility very seriously and will always provide our clients with the most effective, up-to-date service in the industry! Relax…You Found Us!
For more information visit shepherdinstitute.com